The Reality of Disclosure in Palestinian Corporate Social Responsibility (CSR) and Relationship with the Structure of Ownership and Characteristics of the Board of Directors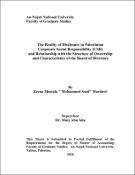 Authors
Mardawi, Zeena Mustafa " Mohammed Saed"
Publisher
An-Najah National University
Abstract
The purpose of this study is to investigate the extent and nature of CSRD of the Palestinian companies listed on the Palestine Exchange (PEX). Furthermore, the impact of ownership structure and board characteristics on the level of CSRD is examined. Data was collected from a sample of 44 companies' annual reports -which constitute 91.6% of Palestinian listed companies- for the period 2013-2017. In order to measure CSRD, a disclosure index including 30 items of social responsibility information was constructed and applied. To achieve the objectives of the study, Generalized Least Square (GLS) regression was used. The results of the study reveals that, on average, a company discloses 43.7% of the items included in the disclosure index. In addition, a significant positive relationship between gender diversity, audit committee, firm size, auditor type and CSRD exists. In contrast, there is a significant negative relationship between board size, CEO duality and CSRD. Furthermore, board independence, board ownership, ownership concentration, financial leverage and financial performance were found to have no effect on CSRD. The study recommends that policy makers and regulators can improve the extent of CSR disclosure through extending the minimum regulatory requirements concerning CSR reporting in Palestine. Furthermore, policy makers and regulators are encouraged to establish an official Palestinian CSR index that can be used to evaluate and compare CSR practice and disclosure among Palestinian companies.
Collections