Moot Contract "Comparative Study"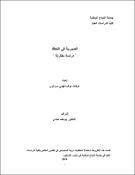 Authors
Arafat Nawaf Fahmi Mardawi
Abstract
This study aimed at identifying the legal implications of moot behaviors in jurisprudence and judiciary. The comparative analytical descriptive approach has been adopted in the preparation of this study. The researcher has analyzed a number of legal texts in a number of Arab legislation, particularly in Jordan and Egypt to find out their directions on the subject and develop the criteria that they adopted in explaining the legal implications of moot. The researcher has displayed the view of jurisprudence in cases not provided for by law, looking for the considerations underlying each direction in showing the implications thereof. Despite the difficulty of access to the resolutions on the subject, the researcher has also highlighted the position of the Arab judiciary of moot and its implications, in addition to the basis adopted by the courts in making these decisions. In the end, the study has stated that indicating the implications of moot -though difficult- is very important, as it has to address the gaps in the legal texts relating to moot. The researcher hasn't biased to a specific jurisprudential view, but he has displayed the advantages and disadvantages of each of them. Moreover,the researcher has considered justice and the prior right of parties to know the legal implications of the actions they make, in addition to maintaining the judicial stability through avoiding the conflict of judicial decisions in similar issues. The study has concluded that the legal texts regulating the subject of moot must be modified in order to avoid defects and eliminate gaps therein.
هدفت الدراسة إلى الوقوف على الآثارالقانونية التي ترتبها التصرفات الصورية في الفقه والقضاء، وقد تم اعتماد المنهج الوصفي التحليلي المقارن في إعدادها. فعمد الباحث إلى تحليل عدد من النصوص القانونية الواردة في عدد من التشريعات العربية خصوصا في الأردن ومصر، للوقوف على توجهاتها حول الموضوع واستنباط المعايير التي اعتمدتها في بيان الآثار القانونية للصورية. ثم تعرض الباحث لرأي الفقه في الحالات التي لم ينص عليها القانون متحرياً الاعتبارات التي استند إليها كل اتجاه في بيان الآثار التي تترتب على ذلك. كما بيّن الباحث أيضاً، موقف القضاء العربي من الصورية والآثار التي تترتب عليها على الرغم من صعوبة الوصول إلى القرارات التي تتعلق بهذا الموضوع، مظهراً الأساس التي اعتمدت عليه المحاكم في اتخاذ هذه القرارات. وأظهرت الدراسة في النهاية أن بيان الآثار التي تترتب على الصورية- رغم صعوبته -هو أمر في غاية الأهمية، إذ يترتب عليه معالجة الثغرات الواردة في النصوص القانونية التي تتعلق بالصورية، ولم يتحيز الباحث إلى رأي فقهي معين، ولكنه بيّن ميزات وعيوب كل منها، متحرياً جانب العدالة، وحق الأطراف المسبق في معرفة الآثار القانونية التي تترتب على التصرفات التي يجرونها، والمحافظة على الاستقرار القضائي من خلال عدم تضارب الأحكام القضائية في المسائل المتشابهة. وخلصت الدراسة إلى أنه يجب تعديل النصوص القانونية التي تنظم موضوع الصورية لتلافي العيوب وإزالة الثغرات الواردة فيها.
Collections