القضاء بعلم القاضي في الفقه الإسلامي "دراسة فقهية مقارنة"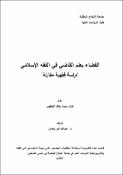 Publisher
ِAn-Najah National University
Abstract
The aim of this study is to study the judiciary with the knowledge of the judge, and has paved the way for this subject by talking about the judicial system and its importance in general. During this study, I spoke about the judiciary in Islam in terms of conditions and elements and the principles of the judicial system and the pillars of the judiciary of a judge and witnesses and accused.. Then I spoke about the means of proof in terms of legitimacy in the Quran and Sunnah and then touched on the existence of the means of proof in the law and spoke a number of means of proof agreed upon such as the certificate and the right and the Koran. And touched on the concept of the science of the judge and its importance and controls the science of the judge and his work and then talked about the sections of science judge whether hearing or watching. In the course of the research, I spoke about the opinions of the jurists in the science of the judge. These opinions included the evidence of all the statements and their arguments and the response to them. This study ended with a weighting between the evidence and the opinions, and I reinforced my opinion and opinion with clear and frank evidence.
Keywords
القضاء بعلم القاضي في الفقه الإسلامي "دراسة فقهية مقارنة"
Collections