المناسبة في الفاصلة التذييلية في القرآن الكريم "سورة الحج: دراسة تطبيقية"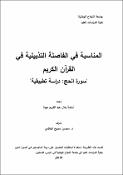 Publisher
ِAn-Najah National University
Abstract
The Quran is a miracle book, in its verses, its words and its letters. God defied by it mankind and the jinn, and ordered its deep comprehension, and the continual exploring of its lights and guidance. The scholars throughout the ages have discovered its endless treasures and studied its verses from various aspects., And this applied study is a step on the path of Quranic studies, which is entitled: "The revealing circumstance in the ending verse words sura Al-Hajj", where the researcher explained the knowledge of the revealing circumstance, the ending verse words, and the objectives of the Hajj and its purposes. The adjoining sections were divided into fields that highlighted the relationship between the ending verse word and the content of the verse in the Sura. The importance of the study is that it relates directly to the most important science and that of the most important noble book, represented in the Holy Quran. It also highlights the importance of the ending verse word in being the most important bond that made the Holy Qur'an a coherent structure; it is related to the context of the preceding verses and act as an introduction to the following ones. This study consisted of an introduction, three chapters and a conclusion. In this study, the researcher reached many conclusions, the most important of which are: the perfect relation and proportion between the adjoining ending verse words and the content of the verse or the Quranic verses in general. These ending verse words are very precise and have eloquent and intended purpose.
Collections