Obstacles that Face Students of Practical Training in Department of Athlete Education in Al-Quds University Based on Students Views.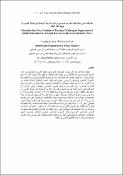 Abstract
This study aimed at identifying the main obstacles that face students of practical training course in the athletic Department in Al- Quds University as viewed by students. To achieve the aims of the study, the study was conducted on a sample of 70 students. The study also aimed at knowing the obstacles that the students face due to the variables of sex, academic level and place of the study. The two researchers used a questionnaire of (41) items distributed into 5 dimensions: athletic facilities, schools students, supervision of students field training, school administration, curriculum and program of field training. It has been shown from the study that the obstacles that face practical training students in athlete department in Alquds university based on students views has come with a median of the overall degree (2.87) and a standard deviation (0.63) .This means that the degree of obstacles has come with a median degree. Results showed no differences of statistical significance in all of the dimensions of the study. The dimension of athletic facilities has got the highest mean (3.44) which has reflected a high degree of difficulty. The field training domain came next with a mean of 93.03) reflecting a high degree of difficulty. The total degree of difficulty was (2.87) which reflected a moderate degree of difficulty? Results of the study also showed that there were no significant differences in the obstacles that face students in field training due to the variables of sex, academic level and place of field training. The researchers recommended that there is a need for the provision of sports gyms and other facilities, practical training and to improve the condition of the staff.
هدفت هذه الدراسة إلى معرفة المعوقات التي تواجه طلبة التدريب الميداني في دائرة التربية الرياضية في جامعة القدس من وجهة نظر الطلبة، ولتحقيق ذلك أجريت الدراسة على عينة قوامها (70) طالبًا وطالبة. كما هدفت الدراسة إلى معرفة المعوقات التي تواجه الطلبة تبعا لمتغيرات (الجنس والمستوى الدراسي ومكان الدراسة). استخدم الباحثان استبانة مكونة من (41) فقرة، موزعة على خمسة مجالات: الإمكانيات الرياضية، طلبة المدارس، الإشراف على التدريب الميداني، إدارة المدرسة، برنامج التدريب الميداني ومنهاجه. وتبين الدراسة أن المعوقات التي تواجه طلبة التدريب الميداني في دائرة التربية الرياضية في جامعة القدس، من وجهة نظر الطلبة، جاءت بمتوسط حسابي للدرجة الكلية (2.87)، وانحراف معياري (0.63) وهذا يدل على أن درجة المعوقات متوسطة. أظهرت نتائج الدراسة عدم وجود فروق ذات دلالة إحصائية في مجالات الدراسة كافة، بينما حصل مجال (الإمكانيات الرياضية) على أعلى متوسط حسابي (3.44) وهذا يشير إلى درجة معوقات كبيرة، ومن ثم مجال (برنامج ومنهاج التدريب الميداني) على (3.03) وهذا يشير إلى درجة معوقات كبيرة أيضًا، بينما جاءت درجة المعوقات التي تواجه الطلبة على المجال الكلي بدرجة متوسطة (2.87). وأظهرت نتائج الدراسة أنه لا يوجد فروق دالة إحصائية في المعوقات التي تواجه الطلبة في التدريب الميداني تبعا لمتغيرات الجنس والمستوى الدراسي ومكان التدريب الميداني. وأوصى الباحثان بضرورة توفير الإمكانات والصالات الرياضية في المدارس، وكذلك الاهتمام بالكادر التدريسي في دائرة التربية الرياضية وزيادة ساعات التطبيق العملي في الكلية.