مطالب أهل النار يوم القيامة "دراسة قرآنية"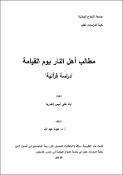 Publisher
ِAn-Najah National University
Abstract
No doubt, Allah the almighty has a great blessing towards the mankind that He has gifted with the Holy Quran. This holy book gives a thorough knowledge of all types of profits and losses and ultimate results of all the efforts. The aim of this paper is to discuss the expectations of people of hell (ahal nar) at the Day of Judgment in the light of Quranic studies. The aim of this paper is also to discuss the limits of obligations as given by the Allah almighty. Crossing the limits is not allowed in any way in light of Quranic teachings. The paper is fully based on Quranic studies and its title is ''Expectations of the people of hell at the Day of Judgment''. By this way the writer wants to elaborate the false hopes and expectations of the ill-fated people of hell. Their hopes can be described in three types, firstly hope from Allah, secondly hope from the hell or angels of hell and thirdly from the lucky persons of heaven. At the end, their hopes will be rejected because they had not acted upon the guide lines of Quran during the life. They were in dark and remained away from right path. They violated the limits fixed by Allah (Hadood Allah). The author divided the research work into six chapters, including one preface and one conclusion. After the thorough discussion, He proved that the belief of rebirth after death is true which was denied by the people of hell. Also he proved this belief firmly which was not agreed by the people of hell. No doubt, the expectations of people of hell from Allah will be one sided and based on their own wishes. Their hopes will not be fulfilled because they had never accepted the clear instructions of Quran. All their wishes were baseless and false. So not possible to be materialized forever .
Keywords
مطالب أهل النار يوم القيامة "دراسة قرآنية"
Collections