Comparing the Echolalia Literature: Principles for Speech-Language Pathologists in Diagnosis, Assessment and Treatment.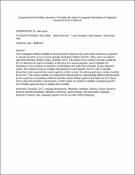 Abstract
This investigation define Echolalia as the phenomenon where by the words and/or utterances is repeated or reproduced which occurs in some typically developing children (Howlin, 1981), and it can appears with other disorders (Shield, Cooley, & Meier, 2017). The purpose of our review is provide a guide for SLP to determine the type of echolalia, to talk about it in several disorders, and to highlight the importance of SLP presence in assistance of individuals who suffer from echolalia. Using a literature review, this review focused on echolalia characteristics in each disorder, the SLP role in echolalia intervention and measured these results against a similar review. Our primary goal was to create a booklet for the SLP. This review certainly has achieved the desired goals by understanding different aspects posed by the researches on echolalia in different disorders and providing a guide of principles for SLPs about how to deal with echolalia in all processes. Further studies are needed to establish a standard guide for SLP to follow approved steps in dealing with echolalia.
Keywords
Echolalia; SLP; Language development; Repetition; Imitation; Aphasia; Autism Spectrum Disorder; Mental Retardation; Blindness; Dementia; Speech therapy; and Intervention Strategies. Depends on patient's age, language cognition and the accurate medical diagnosis.