THE AWARENESS OF DIABETIC PATIENT" TYPE TWO" ABOUT LIFESTYLE MODIFICATION IN IMPROVING DIABETIC OUTCOME.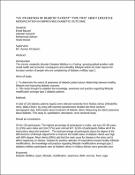 Abstract
introduction The chronic metabolic disorder Diabetes Mellitus is a Fasting -growing global problem with social health and economic consequence and unhealthy lifestyle which are main reasons for increase number of people who are complaining of diabetes mellitus type 2. Aims of study 1- To determine the extent of awareness of diabetic patient about relationship between healthy lifestyle and improving diabetic outcome. 2- This study thought to establish the knowledge, awareness and practice regarding lifestyle modification amongst type 2 diabetic patients. Methods A total of 150 diabetic patients (type2) were selected randomly from Nablus clinics (Almakhfia clinic, Blata Clinic), by using self-reported questionnaire divided into three sections: demographic data, Information about treatment of diabetic client, Measuring the client awareness about diabetes. This study is: quantitative, descriptive, cross sectional study. Result & Conclusions Of the 135 participants. The highest percentage of participants is males, and was (40-49) years, 31 (23%) were obese and 104 (77%) were normal WT. 52.6% of participants follow all of the instructions about the treatment .. The total percentage of participants about the degree of the effectiveness of lifestyle adjustments to improve the health status of diabetic clients was high with 66% degree. Most clients (68%) said that the main cause for disease is the stress and it affect negatively on disease. Despite the positive attitudes of respondents toward healthy lifestyle modifications, the knowledge and practice regarding lifestyle modifications amongst type 2 diabetes mellitus participants seen at Diabetic clinics in Nablus distract were generally poor.
Keywords
Diabetic Mellitus, type2, lifestyle, modification, awareness, BMI, exercise, food, sugar.
Collections