The Effect of Using Facebook on Improving Students' Writing Skills in English.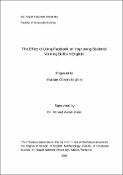 Abstract
This study investigated the effect of using Facebook on improving the students' writing skills for the ninth graders in the Latin Patriarchate Private School in Qabatia District in Zababdeh. The sample of the study was purposeful.It consisted of 40 ninth grade students at the Latin Patriarchate School in Zababdeh in the first semester of the scholastic year 2012-2013. For data collection, the researcher used an experimental group and a control group to examine the effect of using Facebook on improving the students' writing skills . The experimental group was taught how to write effectively by using the modern technological tools mainly Facebook, whereas the control group was taught writing traditionally. The researcher used an IQ test designed by Saleh (1978) to examine equivalence in intelligence. Both groups were about the same intelligence which guaranteed the equivalence of both groups. Then, a pre-writing test was applied for the purpose of examining the students' levels of both groups. The researcher busily engaged the students of the experimental group in different writing tasks agreed upon between the teacher and the students in advance. These writing tasks focused on teaching the main features of writing which are mechanics, usage and sentence formation. At the end, a post-writing test was also applied for both groups to check improvement. The data was collected, coded out and analyzed by using Independent T-Test, Two-Way ANOVA and Paired T-Test to answer the questions of the study. The training program comprised 16 meetings on the Facebook social networking website, which aimed at training the experimental group how to write effectively through correcting mistakes and suggesting better ideas for their classmates' writing topics. On the other hand, the control group was taught the same material but without receiving any training. After 16 sessions of training, means of the pre- and post- tests for the two groups were calculated. On the basis of the findings, the researcher found that there was an obvious effect of using Facebook on improving the students' writing skills. Based on these findings, the researcher recommended that teachers should give more emphasis to the use of Facebook in teaching writing and cooperate with other teachers in other schools to create groups of more students from different schools, backgrounds and experiences for its positive effects on improving the students' writing skills. The researcher also recommended that students should not worry too much about their mistakes because mistakes are inevitable and one can learn from these mistakes through Facebook pages. The researcher recommended decision makers to organize training and workshops for training teachers how to teach writing perfectly through Facebook which has now become not only an essential necessity in teaching writing but also an enthusiastic and challenging way of untraditional teaching.
هدفت هذه الدراسة إلى معرفة اثر استخدام الفيس بوك في تطوير مهارات الطلاب في المدارس الخاصة في كتابة اللغة الانجليزية. و لتحقيق هذا الهدف قامت الباحثة بتقصي ومعرفة أثر استخدام الفيس بوك في تطويرالاداء الكتابي في اللغة الانجليزية لدى طلبة الصف التاسع من المدارس الخاصة في مدرسة البطريركية اللاتينية وهي مدرسة خاصة في بلدة الزبابدة في مديرية قباطية. و تحقيقا لإجراءات الدراسة قامت الباحثة باستخدام مجموعتين تجريبية و ضابطة لمعرفة اثر استخدام الفيس بوك في تعلم اللغة الانجليزية.حيث تم تعليم المجموعة التجريبية من خلال الوسائل التعليمية التكنولوجية أي الفيس بوك عن طريق عرض موضوعات من إنشائهم على صفحة الفيس بوك الخاصة بمجموعتهم و تصحيح اخطاء بعضهم البعض بمساعدة معلمتهم . أما بالنسبة للمجموعة الضابطة تم تدريسها بطريقة تقليدية عادية . قامت الباحثة بإشغال طلبة المجموعة التجريبية بموضوعات اثرائية ذات صلة بمهارة الكتابة تم الاتفاق عليها من قبل الطلبة و معلمتهم مسبقا. استخدمت الباحثة امتحانا قبليا لتحديد مستوى الطلبة وامتحانا بعديا بعد تطبيق اداة الدراسة لمعرفة اثر الفيس بوك في تطوير مهارات الطلاب الكتابية. وبعد الانتهاء من إجراءات هذه الدراسة حصلت الباحثة على إجابات مقنعة للأسئلة المطروحة وخرجت بنتائج ايجابية تسلط الضوء على أهمية الفيس بوك في العملية التعليمية التعلمية حيث أوصت بأهمية استخدام الفيس بوك لما له من اثر في تطوير مهارات الطلاب في الكتابة.